The Ray Odom Lifetime Achievement Award
Positive life initiatives can take many forms but have as their very foundation the intent to improve the lives of others. The spirit of the program is fueled by the life of Ray Odom, who was the inspiration for the founding of the Florida Senior

Sports Association.

The FSSA was chartered to promote positive relationships with others through sports. Over the last ten years this was accomplished via various trips throughout the United States, most recently to the Dominican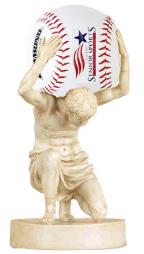 Republic.

In addition, the FSSA has conducted several fund raising events which were used to support individuals in need. During the 2013 calendar year, the organization has continued to focus on positive life initiatives and decided to formalize these good works by creating the Ray Odom Lifetime Achievement Award.

Ed Rose, executive director and founder of FSSA, was one of Ray's closest friends, describing him as being "one of the most giving people that I have ever known. Ray always had that infectious smile on his face that would light up a room. Sadly, Ray passed on 02/01/2009 at the tender age of 56. Our loss was Heaven's gain."

The FSSA board of directors wanted to honor Ray's life by naming this project after him in an effort to keep alive his sprit of giving and hope that he brought to others by extending an open hand.

"Ray Odom Lifetime Achievement Award: Given to Those Who are Making Life Better for Others"
Listed below are the award winners with a brief biography:
2014 Ray Odom Award Winners: Jack & Annette Aronson
Congratulations to Jack Aronson, pictured with wife Annette, recipient of the second annual Ray Odom Memorial "A Positive Life Initiative" award for 2014 in recognition of his qualities of personal achievement, positive attitude, teamwork, dedication, charitable acts and a never-give-up attitude.

Jack started playing Senior Softball in 2003 with the Pine Knob team out of Michigan. That team morphed into the finest senior team in the Midwest, with different sponsors such as Butch's Bulldogs, Premier and

Line Drive Salsabombers. He also played with the powerhouse Geckle Construction, who once put up 47 runs in the 7th inning in Vegas. The last two years he played on OKI, another major powerhouse, before joining Hollis Appraisals in 2013. Jack is well known for his power up the middle. He once went four years without hitting a foul ball. He has played on 40 National Championship teams and has been awarded 20 MVP and All World selections. To stay in top shape for his teams, Jack's daily routine is as follows: 10 miles on a bike, 750 strokes on the rowing machine, 120 crunches and an hour of strength training. He also takes 500 swings a week hitting softballs. To top this off the guy is know as the 'Salsa Man' because of his world-class salsa. Jack has won over 500 national awards for the food products he developed. In 2014 Jack was awarded one of FSSA's top honors, the Ray Odom Award, an honor awarded only to a very special few people who give to others selflessly. Jack is considered a great teammate and an excellent player, and the FSSA is proud to induct Jack in the 2014 class.
2013 Ray Odom Award Winner: Roger Tabor
After a long career in Florida softball on the national circuit, Roger started playing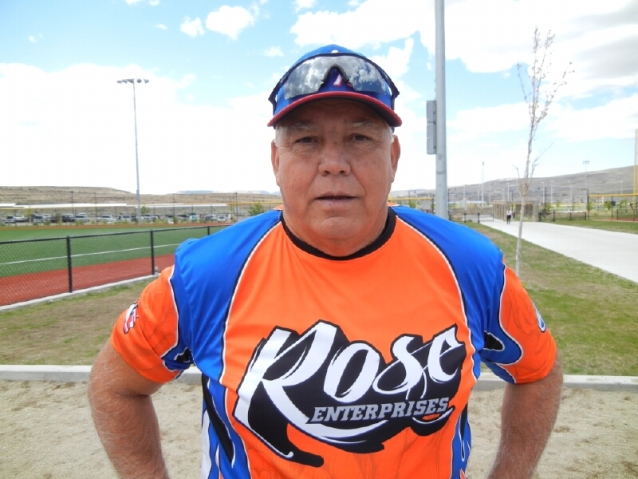 Senior softball with the Florida Sluggers, a Major 50s team, in 2002. Playing second base, Roger has developed one of the best double play turns in the game. Roger has played at the Major and Major Plus levels, winning 10 World Titles, and has been selected to 8 All World Teams, including being named MVP for his offense. During his career Roger not only has played, but also managed and sponsored several teams including the Florida Sluggers. He is currently playing for the Hollis Appraisals/Rose Enterprises team in the 60's Major Plus division. According to Hall of Famer Ed Rose, "Roger is a great team player with a positive, winning attitude who does what is required to make the team a winner. If softball were a profession he would be the commensurate professional. Roger is a person who never gives up and is respected by the game and his teammates". Roger was awarded the 2013 Ray Odom award for his personal contributions and lifetime of giving to his community. Roger exhibits all the positive attributes we look for when searching for the Ray Odom Lifetime Achievement Award winner.
About the FSSA

There is no charge for membership
Founded in 2000, the Florida Senior Sports Association (FSSA) is a federally approved non profit, volunteer driven organization based in Melbourne, Florida. Contributions are eligible for tax deductions based on current tax laws. There is no charge for membership into the FSSA and all services are free to our members. More about us.
The FSSA will continue to offer special value softball tours, in addition to providing links to other organizations that offer our members value added products or services.
Legends Hall of Fame

Active Major Plus Senior Softball Players
The FSSA sponsors the Legends Hall of Famewhich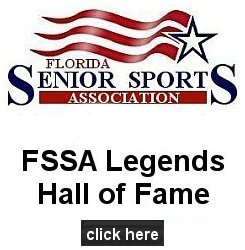 is comprised of the best Major Plus Senior softball players in the USA. Criteria to be accepted includes applicants must be at least 60 years old, actively playing at the regional and national levels, and a current member of the USSA, ASA, NSS, or Heartland Hall of Fames.
Extra Innings Documentary

Follow a Major Senior Softball team on a quest
The Baby Boomers of today are a new breed of "old guys" who are not ready for retirement or the rocking chair. The Extra Innings Documentary film is about a group of senior softball players coming together to chase a dream of winning the World Masters Championship, the highest level of competition, in Las Vegas, Nevada this fall.
The film crew has followed the team to the Dominican Republic and Detroit, Michigan charity events and has great footage to share with us.

Market Place
We occasionally find healthy life-style products we would like to share with our members. These products are thoroughly tested by members and given our strongest recommendation. In the case of Garden Fresh Salsa, our own Jack "Big Salsa" Aronson is the purveyor!
Photo Gallery
Everyone love pictures and today "selfies" are becoming increasingly more popular so we have added a Photo Gallery section for your enjoyment!
Notes from the President
Our President, Audie Hollis, will publish a periodic newsletter updating everyone on the status of the FSSA. These updates will provide specifics about upcoming tournament dates or charity functions you may want to become involved with in some way.