FSSA
Legends Hall of Fame Class of 2014
To view the Hall of Fame Members, click on the : Legends Hall of Fame
Click here to download and print the Florida Senior Softball Legends Hall of Fame application
The Florida Senior Sports Association has announced the inductees of the Class of 2014 during an award ceremony
in Las Vegas, NV on October 1, 2014. A great time was had by all who attended. Below are the inductees for the 2014 Hall with a brief bio of each player who were found to have met the following requirements:
• You must have been a senior softball player or affiliated with senior softball for at least 10 years.
• You must be at least 60 years old to be considered.
• You must be an active player still playing the game or connected to the game in some way.
• Others must recognize you for your achievements outside of your immediate sphere of influence.
• You must be nationally known in the major plus circuit, the top level of senior softball.
• You must already be in a national Hall of Fame: USSA, ASA, NSS, Heartland
Class of 2014

Legends Hall of Fame Inductees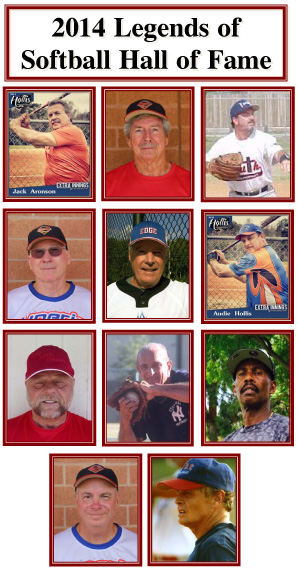 Jack Aronson Michigan
Danny Ballard Michigan
Winky Blackman Georgia
Bill Cameron Virginia
Bruce Fairchild Georgia
Audie Hollis Florida
Steve Imlay Arizona
Billy Rice Virginia
Sam Sapienza New York
Conway Waddy California
Ray Wimbrough Maryland







---
Jack Aronson Michigan
Jack started playing Senior Softball in 2003 with the Pine Knob team out of Michigan. That team morphed into the finest senior team in the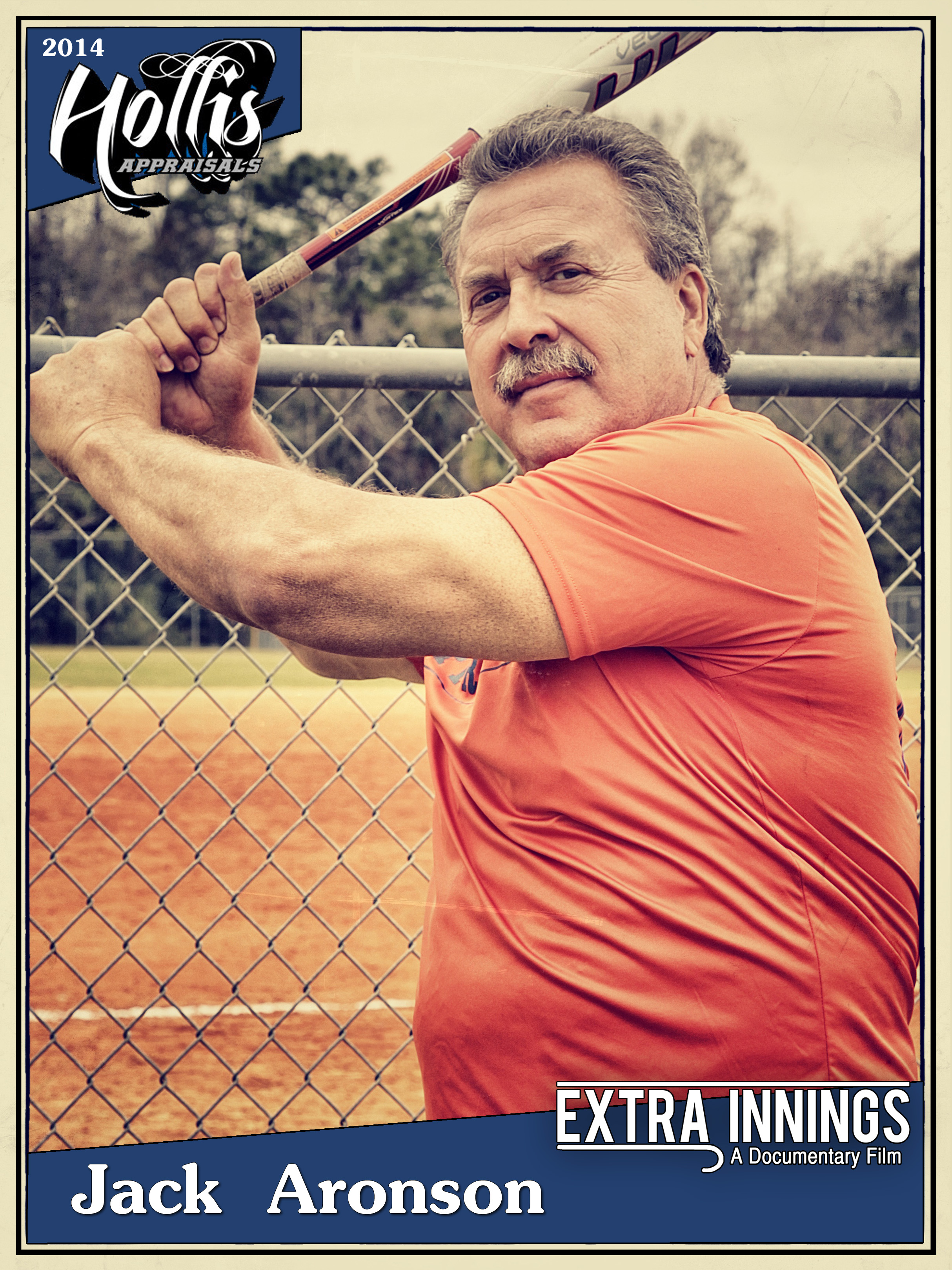 Midwest, with different sponsors such as Butch's Bulldogs, Premier and Line Drive Salsabombers. He also played with the powerhouse Geckle Construction, who once put up 47 runs in the 7th inning in Vegas. The last two years he played on OKI, another major powerhouse, before joining Hollis Appraisals in 2013. Jack is well known for his power up the middle. He once went four years without hitting a foul ball. He has played on 40 National Championship teams and has been awarded 20 MVP and All World selections. To stay in top shape for his teams, Jack's daily routine is as follows: 10 miles on a bike, 750 strokes on the rowing machine, 120 crunches and an hour of strength training. He also takes 500 swings a week hitting softballs. To top this off the guy is know as the 'Salsa Man' because of his world-class salsa. Jack has won over 500 national awards for the food products he developed. In 2014 Jack was awarded one of FSSA's top honors, the Ray Odom Award, an honor awarded only to a very special few people who give to others selflessly. Jack is considered a great teammate and an excellent player, and the FSSA is proud to induct Jack in the 2014 class.
Ray Wimbrough Maryland
Ray ("Ray-Ray") Wimbrough started playing 50 and over Senior ball in 1999 with Fergies. Ray continued playing with Damon's, Recko, Spicer's and Turn Two. Ray continues to play 60 and 65 Major- Plus ball with Superior Senior Softball and Hamel, even with two total

knee replacements. Besides always carrying a high batting average, Ray is known for his pitching. He has a pitching style of his own and is known for his defensive plays. He has taught softball pitching clinics in Florida for the last several years. Since playing Senior Softball, Ray has played on teams that have won over 70 National Championships, always competing at the highest level of play. Ray has won numerous All Tournament awards along with defensive and offensive awards including MVP awards. In 2012 Ray was MVP in the Las Vegas National tournament, with 9 home runs and hitting over .900. Ray is a member of "Clatter's 1000 Batting Average Club", as Ray has had a .1000 average in two national tournaments. Ray has been inducted into the Washington Metro Slow Pitch Hall of Fame, the Maryland Slow Pitch Hall of Fame, as well as the National Hall of Fame. Ray lives in Olney, Maryland, and works as an Accountant/Operations Manager for Montgomery County.
Conway Waddy California
Conway Waddy started playing Senior Softball in 1999. In this time he has amassed over 30 All American awards, along the way winning
several HR titles and MVP awards. Conway has led the GSF team to numerous World titles with his defense and power hitting, winning more than 10 national tournaments. He is a versatile player that can run, hit and field. Not only has he been a top performer through the years, he is one of the most team-oriented guys that I know. He has played with the Mavericks, GSF, D&K and Full Circle. He is a leader on the team, and he puts the team first. Conway is so consistent that his team had to create several categories of awards to allow other teammates to win awards, too. A gentleman on and off the field, Conway is truly deserving of his induction into the FSSA Legends Hall of Fame.
Danny Ballard Tennessee
Danny began playing senior softball 20 years ago, starting with Montgomery Automotive from Maryland, Faith Electric from Georgia,
Steve Ferguson's Fergies from Maryland, R.B. Thomas Engineering from Virginia, and Turn Two and Superior Senior Softball from Virginia for the past 9 years. Danny has been on 85 National Championship teams and was inducted into the National Senior Softball Hall of Fame in 1996. He has been selected for 30 All World/ Tournament teams, 5 Best Offensive Player awards, 7 Best Defensive Player awards and 7 Most Valuable Player awards.
Winky Blackman Georgia
Winky Blackman is a small man in size but with a giant heart and a gift from God, says Ed Rose, a long time friend and teammate. Winky
has won over 30 National Championships and 10 MVP awards. He won the MVP award in the USSSA 45 and over and the 50 and over in the same year. This is a feat not likely to be duplicated any time soon. Playing on such great team as Faith Electric, Sawtre and Hendricks, Winky is known for his pitching, and for defeating the Florida Orange Crush in the 1996 season to stop them from winning all of the tournaments that year. He lives his Christian beliefs by his actions and not only his words, says Rose. He is truly a legend from the great state of Georgia, and the FSSA is honored to include him in the Hall of Fame for 2014.
Sam Sapienza New York
Sam started playing Senior Softball in 1992. He saw the potential in Senior Softball and he organized his own team from Long Island,

New York. They were called the NY Statesmen, and they went on to become one of the best teams in the Northeast. Under his management, they finished second in the World Series in 1993; in '94, '95 and '99 the NY Statesmen won it all. In 1994 Sam was named MVP of the World Series. In 1995 and 1999, he made the All Tourney team. In 1995, Sam was the MVP of the USSSA World Tournament, playing Skinny Dugan's in Kansas City. In 1993, Sam was inducted into the NY Hall of Fame and in 1999 was named to the Senior Softball HOF. Sam was named Manager of the Year in 2002 by the SPA. In 2004, he was named to the SPA HOF, and in 2005 the NY Statesmen were named to the SPA HOF. Sam played professional softball from 1997 to 1982. In 2010 he was chosen as one of the top ten players from across the nation to the Police Softball HOF. He has about 25 championship rings. After 12 knee operations, Sam had to retire because he did not want to play at a lower level. Major plus was the only way to play against great talent like his.
Steve Imlay Arizona
Steve started playing senior softball with the Las Vegas Legends, who eventually became the Las Vegas Stars. After several years of less than outstanding finishes, the team, lead by Steve's power hitting, started winning several Nationals, including LVSSA a couple of ti

mes, NSA, and SSUSA in Mobile, Alabama. Steve played with the MOB team out of Arizona in the 55's before joining the MTC 60's, where they won several national tournaments including a Triple Crown championship. After moving to Phoenix, where he joined the GSF team, Steve continued to provide the long ball for GFS, the 65 Joe Browns All Stars and Full Circle. Steve has won over 20 National Championships, with over 40 All World Tournament awards, and was inducted into the Senior Players Association Hall of Fame. Steve is a gentle giant with a good heart, and is an excellent teammate. He is a high average hitter with as much power as anybody in the game. The FSSA is proud to induct the big guy from Las Vegas, Steve Imlay.
Bill Cameron Virginia
Bill Cameron started playing in the masters program in 1990, playing in the ASA, NSA and USSSA 35's, 40's and 45's national t

ournaments. Teams that he played on were fortunate enough to win six of those tournaments and placed second or third another six times. During that time, Bill was chosen for the first team All Tournament seven times, with three second-team selections. He began playing Senior Softball in the spring of 2001. He has pitched for some of the better teams in the Mid-Atlantic states including Fergies, Murphy's Law, Spicer's 55's, IMS Dogs, Northern Virginia Force, Turn Two and Superior Senior Softball. During that time he has participated in winning over 35 National Championships and been chosen for the All Tournament team 38 times. Bill has been selected for several softball HOF's, including Prince William County HOF, Washington Metro Slow Pitch HOF, Central Virginia HOF and the National Senior HOF. In addition to softball, he is a member of the George Mason University Athletic Alumni HOF and a member of the National Wrestling HOF. Bill lives in Manassas, Virginia with his wife and is a retired administrator from Prince William County Schools.
Bruce Fairchild Georgia
Bruce began playing Senior Softball in 1999 at the 50 AAA level. His road to the Major Plus level came fast, playing with such teams as
Pensacola Hit Men, Old South/Miken, Specialty Tank/ Worth, Allstate/Miken, Hollis Appraisals 60, Miken/Tanel and Kayson's Grille. Bruce is considered one of the best first basemen in the game, hitting with power and average. Bruce is a great team member that does most of his talking with his bat and his glove. He has won over 10 batting titles in his local senior leagues and is considered one of the best players in the state of Georgia. He has been selected to 43 All American teams in his senior career, with 3 MVP awards and several defensive player awards. It has been said that Bruce has had many dinners paid for by infielders on his team for the number of bad throws he saved and turned those bad throws into outs. He may have the unofficial record for unassisted double plays in Senior Softball. A great player and teammate, the FSSA welcomes another great player into the Legends Hall of Fame.
Audie Hollis
Florida
Audie started in senior softball at the tender age of 50, sponsoring and playing on the best teams in Florida over the last 10 years. During this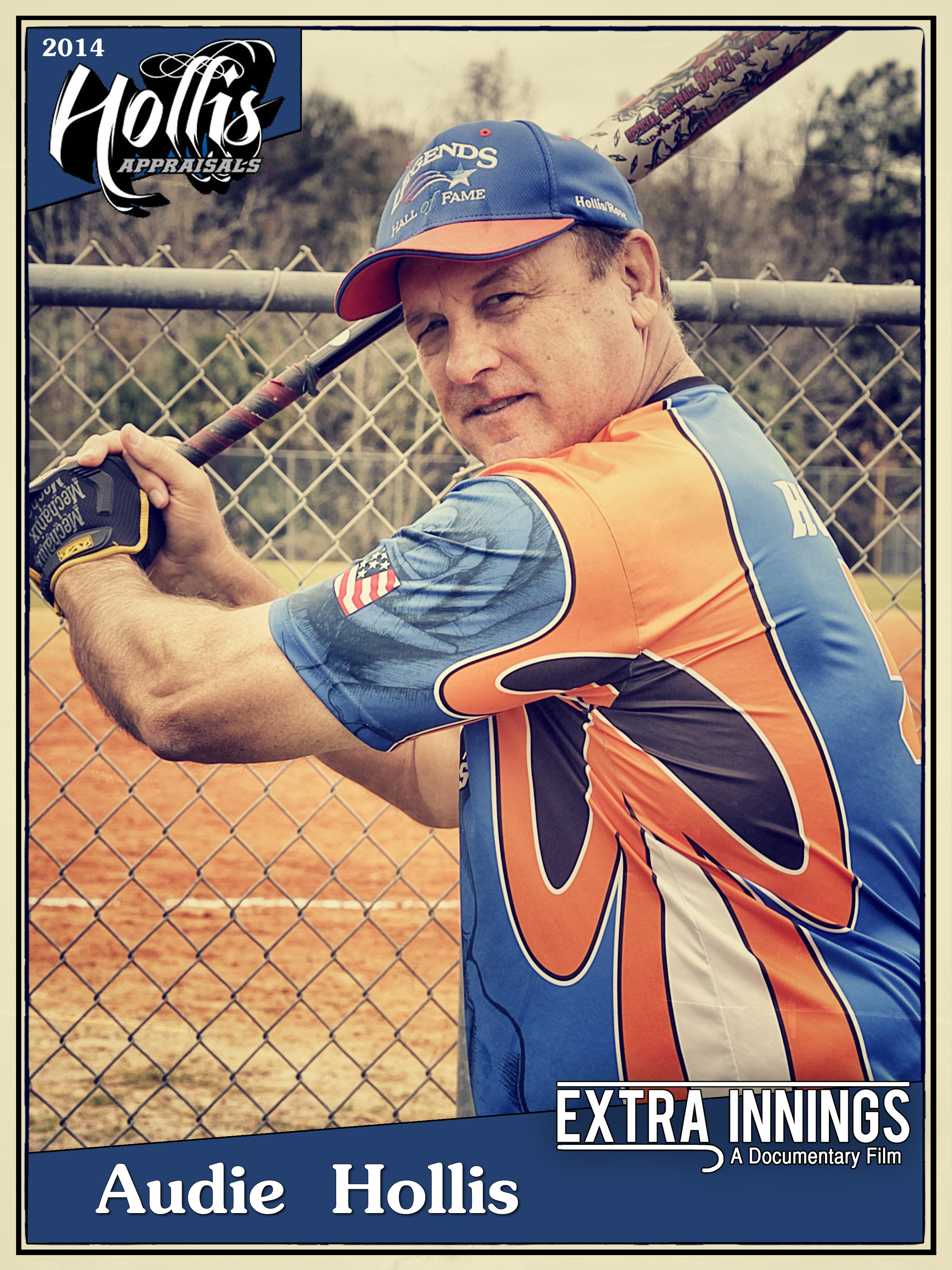 time he has gained the respect of not only Florida players but also others around the country for his sportsmanship. Audie has won over 50 national tournaments and has been selected to over 25 All Tournament teams. In 2012 he was inducted into the Heartland Hall of Fame, and then in 2013 he was inducted into the National Senior Softball Hall of Fame. A power hitter that carries a lifetime .700 batting average and known for his clutch hitting, the Hollis team lead by Audie has won the highly coveted Florida Half Century State Championship in the top bracket 7 of the past 8 years against 85 other teams. Audie, President of the Florida Senior Sports Association, leads our organization by example, being one of the main donators to events such as installing a pressurized water system to a village of 293 people in the mountain village of El Limon, Dominican Republic, providing equipment to impoverished Dominican little league teams, and contributing to the Feeding the Dream program which sponsors two Dominican teenagers to come to America and receive a two year high school education at the Florida Air Academy in Melbourne, Florida. Audie was also the 2014 recipient of the Ed Rose Purpose Driven Life Award presented by the SPA to only one individual each year.
Billy Rice Virginia
Billy started playing with the Original Florida Crush in 1996, a Florida-based team. He was well known to the Florida players

because he had played with the 40 and over Power House Capital X-ray team. Billy also played on such great teams as Dan Smith, Fergies, R.B. Thomas, Superior and Turn Two. "Billy was one of the best left center fielders I ever played with in my entire career," says Ed Rose. "I played next to Billy for two seasons and I witnessed some great plays on balls I didn't think would be caught . He turned many games around with his speed in the outfield and a great arm." A quiet player with strong religious beliefs, Billy is a excellent hitter and defensive player with 37 All World awards and 10 MVPs. Billy was inducted into the Senior Hall of Fame in 2013. He certainly is a legend in Senior Softball, and now he can say he is in the Legends Hall of Fame.