Photo Gallery of Old Hollis Rose Team Photos
Found below are archived team photos of the Hollis Rose softball team as they have evolved under many names in the past 15 years. If you know the team name, date and location of the tournament photos below, please email us here.
About the FSSA

There is no charge for membership
Founded in 2000, the Florida Senior Sports Association (FSSA) is a federally approved non profit, volunteer driven organization based in Melbourne, Florida. Contributions are eligible for tax deductions based on current tax laws. There is no charge for membership into the FSSA and all services are free to our members. More about us.
The FSSA will continue to offer special value softball tours, in addition to providing links to other organizations that offer our members value added products or services.
Legends Hall of Fame

Active Major Plus Senior Softball Players
The FSSA sponsors the Legends Hall of Famewhich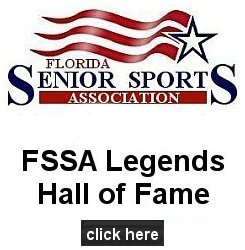 is comprised of the best Major Plus Senior softball players in the USA. Criteria to be accepted includes applicants must be at least 60 years old, actively playing at the regional and national levels, and a current member of the USSA, ASA, NSS, or Heartland Hall of Fames.
Extra Innings Documentary

Follow a Major Senior Softball team on a quest
The Baby Boomers of today are a new breed of "old guys" who are not ready for retirement or the rocking chair. The Extra Innings Documentary film is about a group of senior softball players coming together to chase a dream of winning the World Masters Championship, the highest level of competition, in Las Vegas, Nevada this fall.
The film crew has followed the team to the Dominican Republic and Detroit, Michigan charity events and has great footage to share with us.